KNOLSKAPE: Helping to transform talent with the performance and scaling power of Google Cloud
To determine which cloud partner would be a good match, KNOLSKAPE reached out to niche cloud consulting company Searce, which partners with clients to help them scale their business in a cost-effective way through cloud, AI/ML, and data analytics. As a specialist in futuristic technology such as AI/ML, Anthos, and Cloud Search, Searce was an ideal partner for KNOLSKAPE.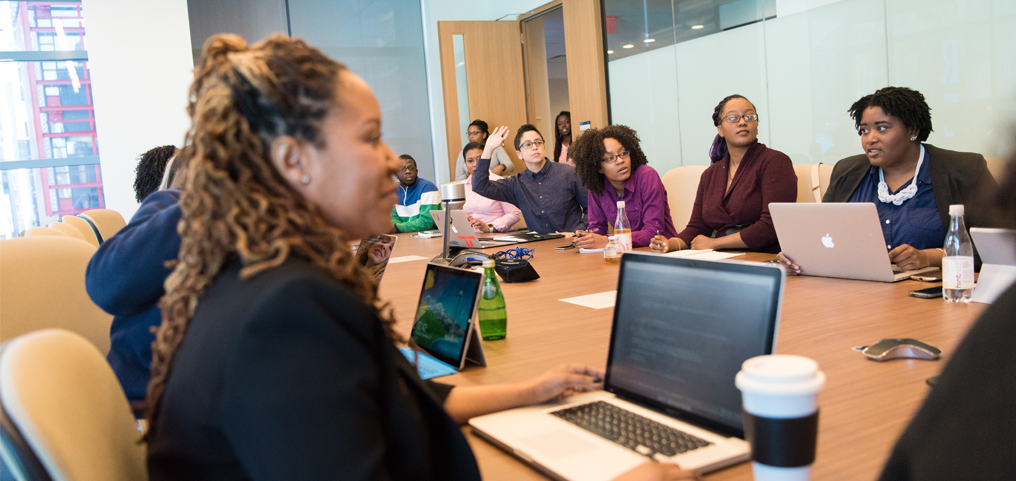 Handling Complex Scenarios to Strengthen their Influencing Skills
To improve their skills, leaders across industries often turn to business retreats, professional conferences, and similar gatherings. Less common is to see them playing educational video games to improve their management of business challenges and opportunities. However, as behavioral skills such as active listening, confidence, affectiveness, inference, and empathy are increasingly valued in the digital age, talent transformation specialist KNOLSKAPE is on a mission to deliver more innovative methods of training.
After every KNOLSKAPE experience, participants receive a report listing different actions they could have taken in the scenarios they faced, with tailored suggestions for ways to keep improving their skills. "When several employees in the same organization embark on one of these learning journeys, we can give business leaders a bird's eye view of the different behavioral traits across their teams," explains Vijay Kalangi, co-founder and CTO at KNOLSKAPE. "When they're able to see the strengths and weaknesses of the people in their organization, leaders can make more informed decisions and figure out the best way to lead their teams." Apart from providing immediate in-depth behavioral insights to customers after every learning experience, KNOLSKAPE is proud to deliver frictionless games and simulations that make learning fun. "We've seen people skip their lunch so they could continue playing our games," says Vijay.
To continue on this track, KNOLSKAPE relies on Google Cloud services. With multiple business simulations in its product portfolio, KNOLSKAPE helps 300 organizations across 15 countries to train more than 300,000 individual business leaders in behavioral skills that help them make smarter business decisions. Change Quest, for example, is a popular 90-minute simulation game pushing mid-level managers to overcome tasks and handle complex scenarios where they need to strengthen their influencing skills to succeed. As technology quickly changes businesses and society at large, influencing skills play an important role in driving cross-enterprise collaboration. Heads of innovation need to get support from other leaders to implement digital transformation initiatives across their organizations, and heads of information security need to be influential to establish cybersecurity awareness across the enterprise, for example.
Modernizing and Scaling Applications while Reducing Costs
KNOLSKAPE is a cloud-native company which modernized all its applications in July 2018. To support its modernisation and improve the way applications were running on managed cloud services, KNOLSKAPE decided it was time to migrate its entire infrastructure from its previous cloud provider to one that could better meet its needs.
Searce proposed creating a pilot project in order to make a well-informed decision. KNOLSKAPE chose one application with seven microservices to test run on the new cloud provider and outlined 12 metrics, including costs, latency times, and throughput, that were measured before and after the test. The goal was to be able to run applications faster and at scale while saving costs as a result of the migration. "We had worked with Searce for Google Workspace, so we were positive about its plan for testing Google Cloud," shares Vijay. "The team was very professional in terms of both project management and technical expertise. And after a successful proof of concept, Searce did a brilliant job helping us to migrate smoothly and on time."
Chaithanya Yambari, who supervised KNOLSKAPE's pilot project and migration process, explains that the company's cloud consumption costs had been doubling for the past four years as it grew its client base and expanded its product portfolio. "After measuring the price, scalability, and performance of running our applications on Google Cloud, we were happy to see that almost all metrics we had set out for the pilot project were outperformed. It was obvious that we had to migrate our production system to Google Cloud as soon as possible," says Chaithanya.
KNOLSKAPE is now live with almost 25 different applications, close to 95% of all its production services, which Vijay describes as "an incredible feeling." "This wouldn't have been possible without the support of the Searce and Google Cloud teams, which built a brilliant architecture and worked with us to innovate both our current stacks and new projects as well. With this platform to experiment, we're not only benefitting from cost and performance savings, we're now seeing cloud infrastructure as more than a cost saver; it's a business enabler."
"We used to think that if we were able to save 13% on costs by running our workloads on another cloud provider, we should migrate. But a month after switching to Google Cloud, we've already saved 24%," Chaithanya continues. "Sometimes we'll run a virtual machine for hundreds of users, then suddenly for just a dozen. The scalability we get on Google Cloud for launching virtual machines regardless of load has played a crucial role in our savings and has been brilliant as a service," he says.
Increasing Performance and Employee Satisfaction
It was also crucial for KNOLSKAPE to ensure that its new applications could run properly on managed cloud services such as Google Kubernetes Engine, which it relies on for running all its virtual machines. "We experimented with Kubernetes on different cloud providers, but we wanted to deploy these container solutions on Google Cloud, because Kubernetes originated at Google. The choice proved a game-changer for us," says Chaithanya. "Our DevOps team loves how smooth things have been running since we migrated to Google Cloud. Our throughput has increased by 8% in just the first month, which makes their jobs easier, our days more productive, and helps us provide almost immediate insights to customers," adds Vijay.
Having now completed their migration process to Google Cloud, KNOLSKAPE is running its application layer on Google Kubernetes Engine and its database on Cloud SQL, while using Pub/Sub and Firebase to compare and verify information in real time across most of its applications.
"We're experiencing a winning service with Google Cloud because you expect things such as latency and performance to improve when cloud costs increase, but in our case, latency has improved by 11% while costs are actually going down beyond our expectations," says Chaithanya, who credits the improvement in latency time to the connection layer between the cloud services KNOLSKAPE is using. Additionally, he says, the Spectrum Access System (SAS) network that Google has spread around the world is successfully scaling on demand and supporting dense networks across operators.
Innovating the World of Corporate Training
With managed cloud services supporting its modern applications, KNOLSKAPE is continually transforming the learning journeys of more and more business leaders around the world, knowing that its infrastructure can now sustain its ambition to scale. According to Vijay: "Thanks to the scalability and ease of managing our applications with Google Kubernetes Engine on Google Cloud, we can confidently go to thousands of customers and talk about global rollouts without worrying about how we're going to manage that."
Perhaps the most important benefit to come from KNOLSKAPE's migration is that it can now pass on those savings to its customers. This enables business leaders to develop their behavioral skills using fun methods more cost-effectively. "We weren't expecting to be able to cut costs through this project," shares Vijay, "but because migrating to Google Cloud has led to savings for our business, we can make our products affordable to more customers."
Looking forward, KNOLSKAPE aims to double down on its use of smart analytics. "With 300 customers around the globe and many active users on our platform, we're keen to understand and serve our customers better through data. We haven't made the most of analytics yet, but with Google Cloud services, we surely will. It's just a matter of time," Vijay says with a smile.