inshorts: Delivering mobile news solutions with Google Cloud to serve Indian readers better
Across India, hundreds of millions of people turn to their smartphones for news that will enhance their lives and help them achieve their goals. According to Professor Rasmus Kleis Nielsen, Director of the Reuters Institute for the Study of Journalism: "The past few years have seen explosive growth in mobile internet access, and the rapid move to digital media will have profound implications for the practice of journalism, the business of news, media institutions, and thus by extension political and public life in India."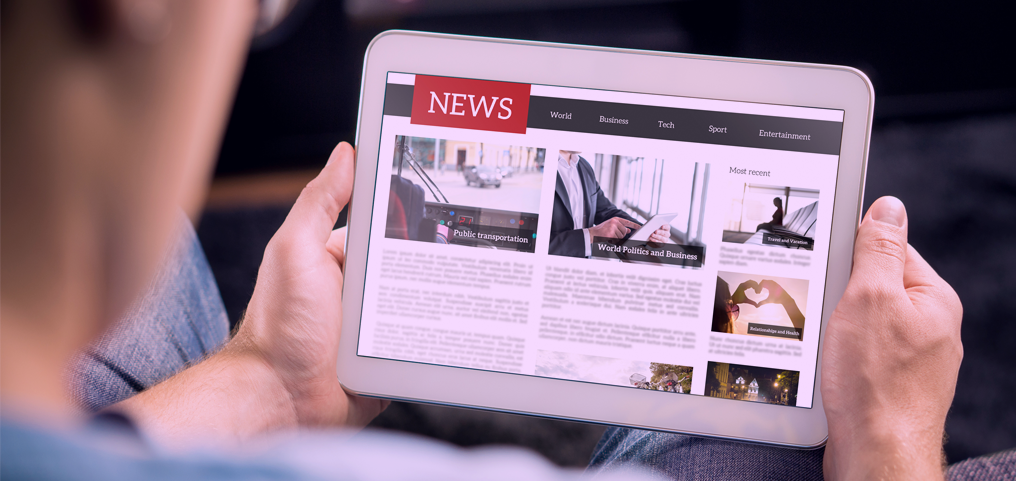 The Institute reports that Indians with internet access have risen from 100 million to 500 million in the past decade alone. The report identifies India's news industry as "a mobile-first market," with 66% of Indians citing smartphones as the device they most frequently use to access online news. Seeing an opportunity to meet the growing need for news on the go, inshorts developed a mobile news platform for Indians on the move who want to stay informed but don't have time to read long articles. The inshorts solution condenses news, from politics to cricket, into briefs of under 60 words and has been well received, with 10 million downloads since launching in 2013.
To keep the attention of its always-on news consumers and attract more users for continued growth, inshorts knows it must continuously evolve and improve its platform. The company turned to Google Cloud in 2016 in order to free its developers from time-consuming infrastructure maintenance tasks and enable them to focus on creating innovative applications instead. It was also looking for powerful yet cost-effective data and scaling tools to reach more remote corners of India and found this in Google Cloud. "There's a new wave of 300 to 400 million first time mobile users projected for India," says Manish Bisht, Head of Technology at inshorts. "We want to capture those users, and Google Cloud is helping us succeed."
Freeing up Resources for New Solutions
By migrating to Google Cloud, inshorts has been able to free up its development team to experiment with new ideas, without worrying about backend management or costs. The company worked with cloud consultancy Searce, a Google Cloud Premier Partner, to define the best solutions for achieving its goals. Searce partners with clients to help them scale their business by leveraging Cloud, AI/ML, and data analytics while reducing the operational IT infrastructure spend. Because it specializes in AI/ML, Anthos, and Cloud Search, inshorts chose it as the ideal partner for futurifying its business on Google Cloud. According to Manish, the Searce team was focused not only on helping inshorts to migrate and adopt a on-demand computing mindset, but helping it to decrease monthly costs as well. "There's always a positive push from Searce, to help us move forward, and to really put our company's priorities first," he says.
Through the application development solutions of Firebase, for example, inshorts is able to test new features in a rapidly shifting market. The product's ease-of-use and built-in data analytics mean that inshorts can now allocate its developer resources more efficiently across multiple projects, instead of needing an entire team to focus on one project. Product cycles are now just one week long, instead of one month, and each backend and frontend developer in the team of four is able to focus on a separate project, meaning that more work gets done in a shorter time.
Dataflow, which enables real-time data processing, has been a major factor in allowing inshorts to instantly recommend content to users. Previously, the company had managed its own instances, first manually recording what users were doing and later pushing out recommendations. That all changed with Dataflow. "Dataflow freed a lot of our development and instance management time, because we can process data in real time now," says Manish. "And that means giving users what they want instantly."
Perhaps one of the biggest time savings came from using Dataproc, which released the inshorts team from the task of managing clusters. "We simply moved to Dataproc, provisioned the machines, and let Google Cloud take over all the management for us," says Manish. "This one change translated into labor savings of up to six hours a day."
Where costs are concerned, inshorts is happy to report that Google Cloud has led to not just time savings, but monetary savings as well. The company had begun its cloud journey with a leading provider, but soon found that data analytics services were driving up costs. Meanwhile, the service required high levels of technical expertise to manage the growing infrastructure, which meant it needed to hire a DevOps expert. After switching to Google Cloud products such as Google Kubernetes Engine (GKE), Cloud Deployment Manager, and Cloud Build, inshorts has now reduced most of its DevOps burden.
"At the time, we were spending around USD 100,000 per month in data analysis and data-related fields alone. We had to pursue a cost optimization drive," recalls Manish. "We had no idea how much we would save just by migrating to Google Cloud. We brought down our costs for the entire infrastructure to around USD20,000 per month."
The company now uses BigQuery with Google Data Studio to analyze and predict its tech expenditure. With Google Data Studio, it can easily visualize infrastructure costs and break them down by team, services, and project stakeholders.
Processing Millions of Images Quickly, Delivering News Instantly
inshorts cites the move to GKE as one of its most important moves. "At one point, we were processing a quarter of a million images per day. Because images are uploaded by our users, traffic is unpredictable; planning the exact amount of compute needed in a given moment is almost impossible. Load balancing itself was no longer enough," shares Manish. "Google Kubernetes Engine makes life easier for our developers, reducing the need for them to be ever present, and giving them a tool that's easy to work with."
The inshorts team moved to GKE primarily to gain this ease of use, where its team can now push a few configurations, then spin up clusters, tell them how to handle the load and what kind of machines to provision, and manage resources effectively. The team has reduced its dependency on DevOps since there's no need for developers to worry about what size of machines they need for their applications. "The size of machine needed depends on the specific job, and with Google Kubernetes Engine it's very easy to accommodate a whole range of jobs. We simply optimize our resources, scaling up or down as needed," says Manish.
As inshorts' platform becomes more feature-rich and sophisticated, it is taking advantage of the global network of Google Cloud. With its data center in the United States, the platform had begun to experience latency of about 600ms, too great a lag in an age of instant news. Because Google Cloud has regional data centers around the world, inshorts was able to simply move its data center closer to home, bringing down average latency to 100 ms. "We achieved significant app performance improvements thanks to being able to migrate our data center," says Manish. "The loading was faster; everything was faster."
Mapping the Future with Localized News
Being able to develop features even faster is enabling inshorts to pursue its goal of expanding into every corner of India. To capture the wave of new mobile consumers, inshorts realizes that it needs to start by finding out exactly where they are. Using Google Maps Platform, the company has launched a location-based social video app called Public, which offers news that's highly localized to specific Indian communities and relevant to what they want to read.
As a developing nation, India's mapping landscape is constantly changing. There were 722 administrative regions when inshorts began its work, but by 2018, 10 new districts had been added to this number. Because Public serves rural and suburban audiences, it's crucial that it can stay on top of these rapid and sometimes confusing changes. According to Manish, Google Maps Platform not only offers granular geo-location through the Geolocation API but adapts to mapping changes in near real time. It's a capability that inshorts is harnessing to make the Public app into its next success. "The app is experiencing tremendous growth in the tier two and three cities," shares Manish, "In the short span of six months, it has already become the category's number-one ranked app on the Google Play store."